VI Form
Welcome to our Sixth Form.
St John's Sixth Form is inclusive and we strive to value and respect each and every individual who joins our vibrant community. We encourage all of our students to aspire to academic excellence and success, believing that there are no limits to a student's potential.
Our Sixth Form curriculum is bespoke to the needs and abilities of each student, providing stimulating academic and vocational opportunities which develop confidence and nurture individual talent.
We are committed to the highest standards of teaching, learning and pastoral care – achieved through a combination of challenge, support, encouragement and praise – and, by working in partnership with parents/carers, we empower our pupils to achieve success and become the leaders of tomorrow.
So please take this opportunity to visit us to discover the exciting opportunities and the right pathway for you at St John's Catholic Comprehensive School. Finally, if St John's is the right Sixth Form for you, I very much look forward to welcoming you into our school community in the future.
M Barron Head Teacher
Read below what our Head Boy and Head Girl have to say about our Sixth Form.
Our Head Boy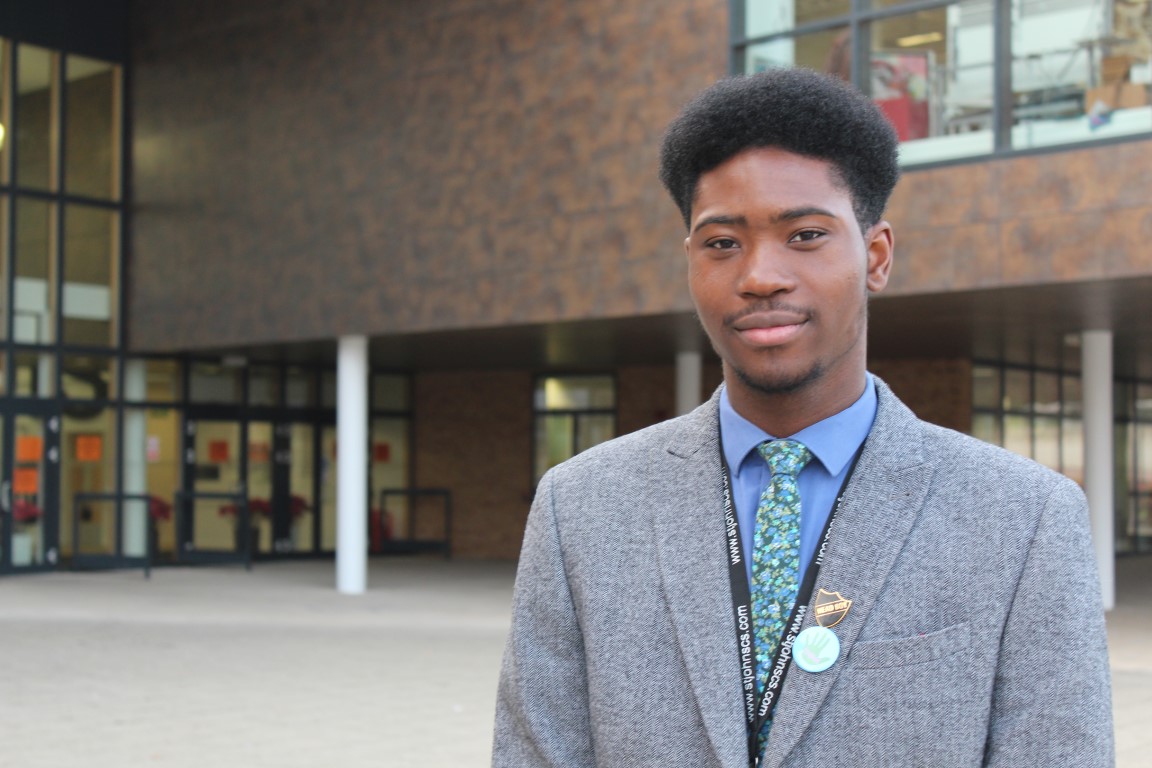 My name is Marvel and I have attended St. John's since Year seven. If you ask me, what the one thing I love about the sixth form is, I would say the fact that there is no room to feel hidden or left-out because everyone is equally pushed to achieve. We are not limited to being lawyers, doctors, engineers, but guided in this step of pursuing anything we want to be and do.
Coming back to St. John's after briefly attending a local grammar school for sixth form showed me how much I took the school for granted, regarding the unfailing support they provide all the students with.
St. John's sixth form is a thriving community of mutual love and respect. These aspects of our character derive from the important message of our Lord Jesus; which is to, 'Love thy neighbour as thy self'. We live this with pride adhering to our mission statement, Excellence for all, Service to others and Inspired by Christ. St. John's sixth form is a family environment in which students get along well with each other. One of the things which highlight St. John's as a family orientated school, is our whole school assemblies. This a time where we all gather to celebrate our successes and achievements as well as learn to grow as good people. I am proud along-side the rest of my community of our family spirit and Catholic ethos.
Our Head Girl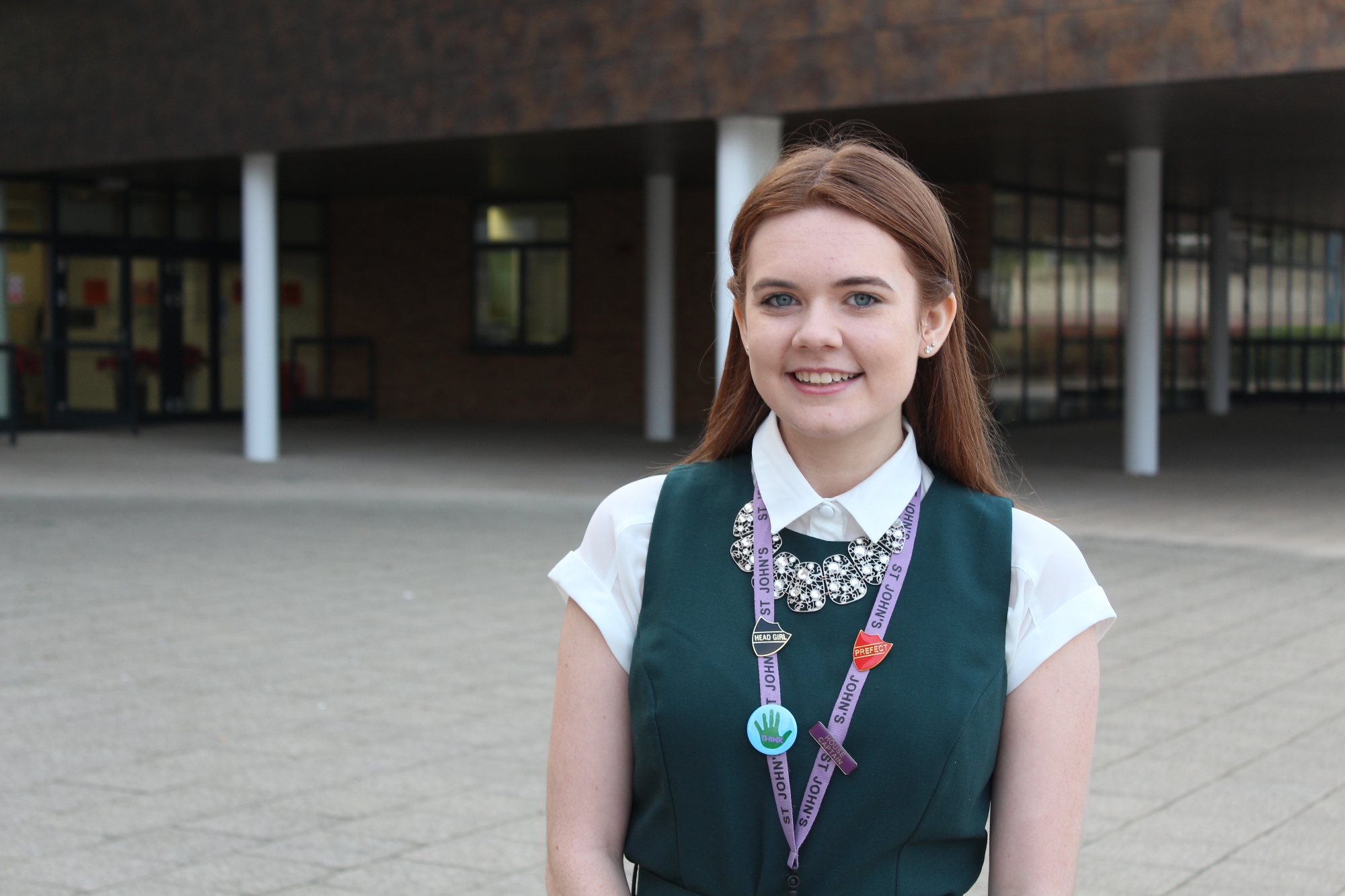 Welcome to St John's! My name's Georgia Dartnell and I'm Head Girl. I've been at St John's since Year seven. I chose to remain at St John's for sixth form for a number of reasons but the main reason is because of the support I had received so far as well as my positive relationship with staff. I knew that at St John's the teachers would always be here to help whether its academic problems or non academic problems.
Coming to St John's has helped me develop so much as a person both academically with huge successes so far in my GCSE's and AS Levels and non academically as well with the development and exploration of my Catholic faith. St John's is a community of love and success, which is at the heart of everything that the school does. We live by our mission statement 'Excellence for all, Service to others, Inspired by Christ'. Our Catholic ethos helps us to embrace certain values which help us to grow as a community and an in-school family which adds to the support that you will receive. At St John's we welcome everyone with open arms no matter what their background, race, ethnicity or religion is as everyone is valued as being unique and an important part of our school's society.
Life at St John's is thoroughly enjoyable and in my experience so far a successful experience. Form every morning enables us to bond with our Tutors and to set goals and aims for us to reach which can be checked on and met so that we are successful. You are guided from the beginning of choosing your option straight through until the end of year 13 with careers advice and support to make sure that you choose the right options for you to aid you with your chosen career and that put you in the best position for further education.
At St John's you will never be alone, staff and students are always there for pupils whether they be in Year 7 or Year 13. Developing as a person is as important as developing academically hence why St John's places such a huge emphasis on the skills that will make you a better person in the adult world and work place. We build on academic and non-academic skills and offer so many opportunities tailored to each individual. St John's offers different pathways and does not just focus on the students who wish to apply to University.