InterHouse Super 6 WarHorse event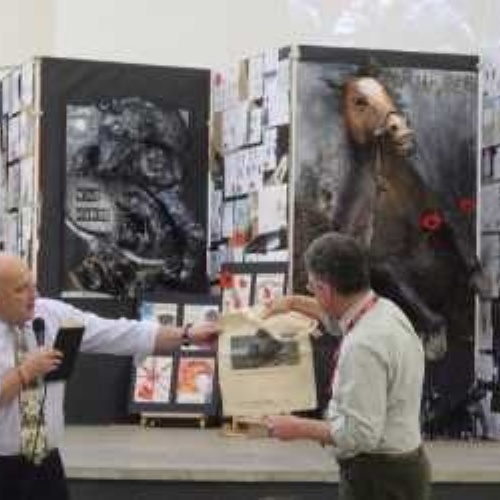 The WarHorse figures, the latest in the InterHouse Super 6 events, were unveiled on December 11th. Year 8 and several distinguished guests were the audience for a talk from the Historian and Author Mr Andrew Robertshaw. Mr Robertshaw both acted and was consultant to the film Warhorse and recounted the many interesting aspects of being involved in the making of the film. The talk was highly interesting and entertaining. The audience was hugely entertained and intrigued.
After the talk the guests including Councillors Greta Goatley and David Hurley, Deputy Mayor, judged the event but came to the conclusion that it was a three way tie!
The War Horses are on display at the school at the moment and truly reflect the brilliance of the staff of the Art Department working with 6th Form Students. Truly outstanding. The War Horses will eventually be on display at the Woodville Halls, Gravesend and County Hall, Maidstone.
The image shows Mr Murphy, History Department, making a presentation to Mr Robertshaw.