KENT COUNTY CATHOLIC SCHOOLS' RUGBY 7s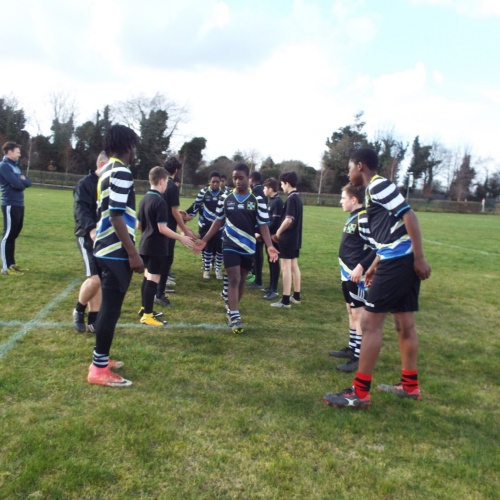 The annual Kent County Catholic Schools' Rugby 7s hosted by St John's was held on March 16th, the day before the final day of 6 Nations Rugby matches. This was the fourth time the competition was held and again the Richard Challoner School. Richmond and St Columba's School, Bexleyheath proved the main protagonists. They duly met in the final game of the competition with Challoner coming out on top by 20 points to ten in what was a most exciting game. St Columba's led twice in the first half which was most evenly contested. In the second half however Challoner ran in two trys without reply from St Columba's. The referees were Mr Kyle, Mr Murray and Mr Rowlinson and all did very well with the whistle ensuring the games ran smoothly and with minimum stoppage which ensured the games were played in the manner and spirit sought.
The teams were entertained afterwards with refreshments and a lunch provided by Mrs Matthews. At the end the presentations were made by Mr Walton, Associate Headteacher; he praised all concerned and was delighted too present the Tom Cahill Trophy to the Richard Challoner School, the captain of which won the Sean Maher Trophy for the best player on view judged by the referees.
The image shows the 'tunnel' after the St John's/St Columba's match with the St John's players clapping their counterparts from St Columba's through the 'tunnel' of players.