STAFF CHARITY CYCLE TO NORMANDY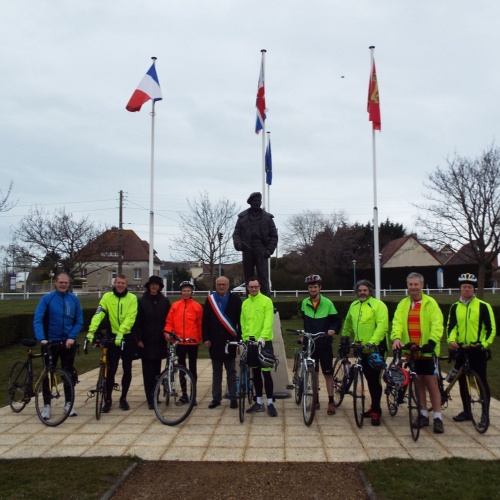 The annual staff charity cycle to Normandy covering all 5 Landing Beaches and the 2 Airborne drop zones took place over the weekend of March 23rd to the 26th.
Day 1 saw the intrepid group of 12 set off from the village of Troarn and finishing at Arromanches, a total of 50 miles. On the way the group passed the British and Canadian Landing Beaches and were welcomed on the way on their arrival at Coleville Montgomery. There they were met by the Mayor and Deputy Mayor of Coleville Montgomery who welcomed everyone to Normandy.
The group stayed at the Gold Beach Hotel which itself is situated adjacent to Gold Beach.
Day 2 had the group travel to St Mere Eglise where after a visit to the Airborne Museum they were welcomed to Ravenoville by local historian Dave Ashe. After a talk which included a visit to the legendary Marmion Farm the group set off for the American Cemetery at Coleville. The 40 miles was covered in a little over two and a half hours despite the headwind which made cycling difficult. Dave Ashe continued his talk on American Airborne soldiers buried in the cemetery who were killed in action at Ravenoville. After the talk it was onwards to Arromanches – a distance of 20 miles.
Day 3 saw the group visit the historic centres of St Valery-en-Caux – site of the evacuation in June 1940 and the surrender of the 51st Highland Division in 1940 – and Dieppe where lunch was had at Le Troubadour; the seats where Winston Churchill, Samuel Beckett and Oscar Wilde sat when in residence in the seaside town were noted as was the various scenes of battle during the arid in World War 2.
Monies raised go to the Mayor's Charity Fund.