NORMANDY VETERANS' ASSOCIATION & St JOHN'S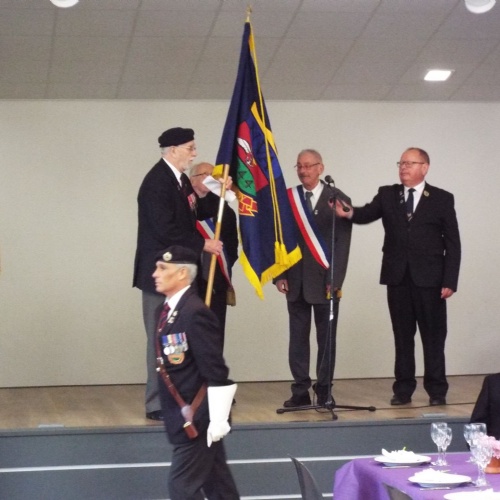 The Normandy Veterans' Association, through the local Number 23 Branch, have long had an association with St John's School. Veterans of World War 2 have been coming into the school for many years. George Batts, MBE, Ld'H, National Association Chairman extended an invitation to Mr Murphy, subject leader History, to attend the prestigious ceremony of the laying up of the standard of Number 23 Branch.
Mr Murphy travelled with several dignitaries and D-Day Veterans to Coleville-Montgomery, Normandy where the group were entertained and welcomed by the local Mayor and Mayors of surrounding areas. The impressive ceremonies were worthy of the occasion and it was an honour to have the School invited, reflecting the close ties of the veterans and the school over the years.
The image shows the presentation of the standard. The standard is now housed in the local mairie.