Sleep out raised over £1066 for the House of Mercy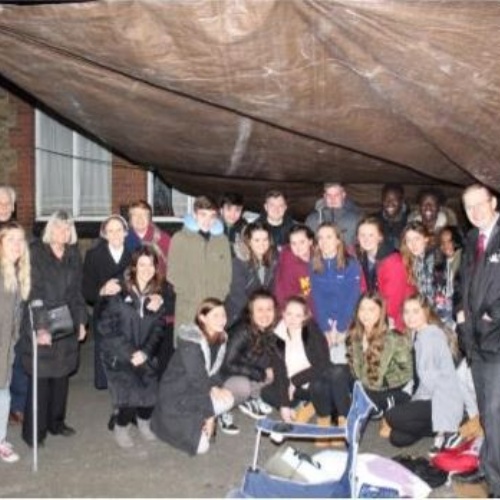 On the 22nd of March, a group of 20 sixth form students decided to take on a challenge of sleeping outside and experiencing what it means to be homeless. We did not know what to expect, but the recent snow and rain really made us realise how miserable it is to be sleeping rough. The House of Mercy is our local charity that had worked closely with St John's parish for 26 years. Having been inspired by those who already raise money for the charity, we wanted to play our part and give back to our community.
On the night all the students prepared their sleeping space, laying just cardboard and sleeping bags! It was a very long and cold night, but incomparable to those who experience it every single day. We were also lucky enough to hear a very inspiring story by a former homeless, who was aided by the House of Mercy and was able to go to university. Such testimonies are truly eye opening and reminded us that the homeless sleep out wasn't just an event to raise money, but awareness too. We wanted to say a massive thanks to all who took part, contributed to our fundraising and helped us to organise the event. Special thanks also goes to Divizia's who surprised us with the luxury of pizzas!
Our school raised over £1060 for the House of Mercy. We were delighted to invite Sister Helen and Danny in for a Whole School Assembly led by the Sixth Form Head girls. The assembly was successful in raising further awareness on supporting the work of the House of Mercy and demonstrating the unique caring family we are as a school.
I hope that in the future we can continue to touch the lives of those around us in any way we can.
We were extremely lucky that a cameraman gave up his time to help us create a short documentary on the night. Please look at the documentary on the school website.