National Service of Remembrance, The Armstice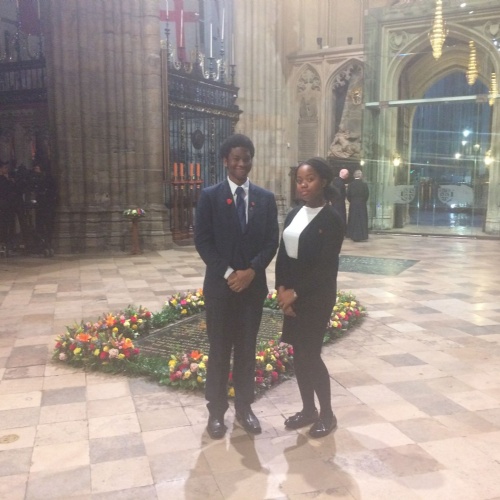 The National Service of Remembrance recognising the Centenary of the Armistice was held at Westminster Abbey on November 11th at 6pm. The main guests were Her Majesty, The Queen, His Royal Highness, Prince Charles and other leading Members of the Royal Family and His Excellency, the President of Germany as well as Prime Ministers past and present and other leading figures.
In recognition of the work done by the History Society in Remembering the fallen of the Great Ware two students and Mr Murphy were invited to attend the Service - a truly remarkable honour. On Saturday 10th Joel Williams-Modeste, Kefa Reid and Mr Murphy had to attend rehearsals and final dress rehearsals. Joel was asked to do a reading1
On the Sunday, the day of the Service, Mr Murphy and the two students were invited as guests to the pre Service lunch - with leading members of the Institute of Education and then it was to the Service.
Remarkable to say that a separate entry to the other guests and reserved named seating a couple of rows back from the leading politicians and the German President and facing the Royal Family.
Joel did his work splendidly and all live on BBC 1. If you have not seen it - go to catch up!