Year 8 Graduation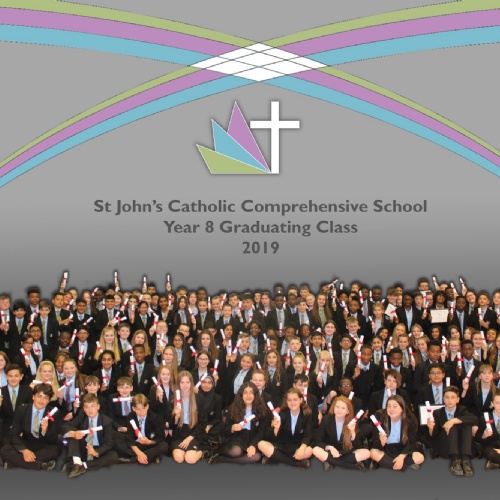 On Thursday 6th June, this year's Year 8 cohort graduated.
The past few weeks have been very exciting for Year 8. It is through hard work and determination that the cohort enjoyed their Graduation Ceremony on Thursday 6th June.
The evening involved a variety of acts including Khadija Bouteldja and Ryan Carver reading a Graduation poem, a musical performance on the ukulele from Ellen Bareham and Andrius Vaisvila, and Kamile Stasiukaityte closing the ceremony with a prayer. Throughout the evening students were invited to the stage to receive their certificates whilst parents and guardians looked on with pride. Students particularly enjoyed the opportunity at the end of the ceremony to have their photo taken with their scrolls. Special congratulations go to Riandeep Sahi and Shaan Powar for receiving trophies on the evening for their outstanding efforts throughout the year. The following students also deserve a special mention for receiving a framed 'Graduating with Honours' certificate for the most progress made this year in core subjects; Pravjot Dosanjh (English), Mati Perdian (Geography), Millie Pithman (History), Inderpreet Chahal (Maths), Sean Fahey (RE) and Iesha Sutherland (Science).
The Year 8 team would like to take this opportunity to thank all staff and students who attended on the evening and for your continued support throughout the year. The Year 8 team wish all students the best of luck for their future studies in Year