8th March Return to School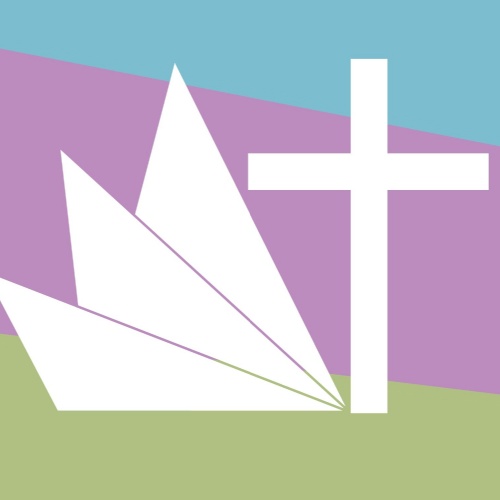 Please find below information regarding the 8th March Return to School for pupils of St John's.
Following the Prime Minister's announcement at the start of this week, we are absolutely delighted that all pupils can return to school from Monday 8th March. Whilst we have done our very best to ensure that the quality of our remote learning has been high, there is no substitute for face-to-face teaching when it comes to academic development alongside all the other holistic gains that students make when they are at school.
Whilst I will need to write to you again a little later on this week in order to provide a few more specific details for you (in addition to asking for consent regarding the administering of Lateral Flow Tests at school), I thought that I would take this opportunity to outline a brief summary of our plans so far: -
Our aim is for all pupils (apart from those self-isolating, shielding or who have been deemed Clinically Extremely Vulnerable) to return to a full curriculum in-school education on Monday 8th March for the remaining three weeks of Term 4. Our dedicated pastoral teams will be working closely with families to allay specific anxieties as much as possible ahead of pupils' return.
In line with the PM's announcement yesterday, each student will be tested in school for Covid using our Lateral Flow Tests (LFT) before they return to class on Monday 8th March (assuming their test is negative). These tests will take place across Wednesday 3rd to Friday 5th March, and students will be invited into school for a short period of time in order to take their individual test. The table below illustrates the general timeslots where we will be inviting students onto the school site to take their test (although when I write to you later on this week I will provide you with a specific time for you to bring your child to the school).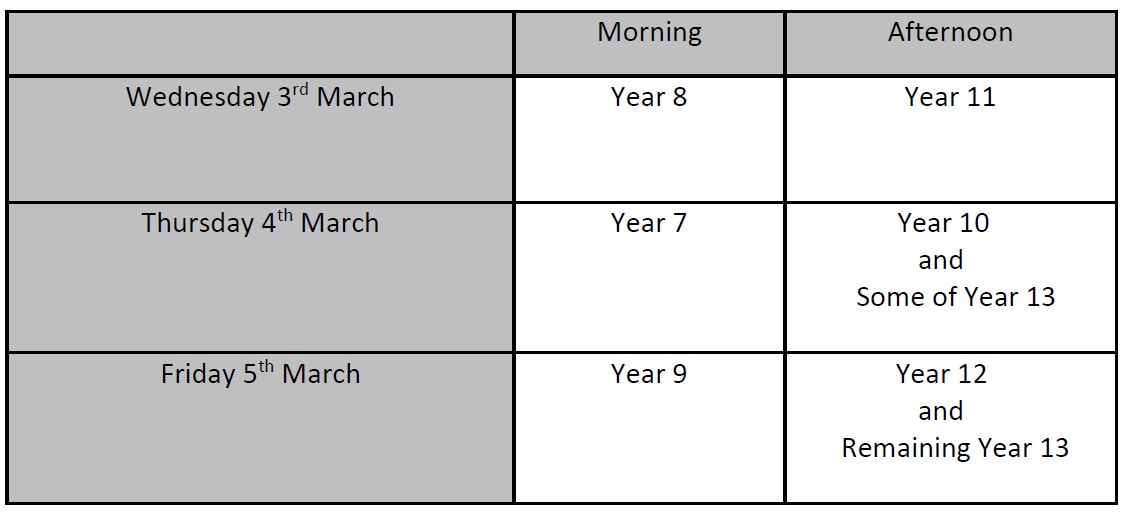 Please note that, in line with the most recent NHS advice, those pupils who have unfortunately contracted Covid in recent months will not be required to undertake a LFT until 90 days have elapsed from when they first tested positive.
The school, along with every other secondary school across the country, will also be shortly receiving individual home testing kits for each student to take home (once they have completed 3 in-school tests). However, please note that St John's will continue to run a service of in-school testing for those pupils who are unable to (or forget) to undertake the test at home.
All staff will also be required to undertake regular Covid testing.
In light of the latest guidance for schools and our continued commitment to minimising the risk of transmission of Covid-19, face coverings will become an even more prominent feature of school life for staff and pupils, at least until Easter. Not only will face coverings be mandatory when moving around the building, but they will also be required to be worn within each lesson.
The 'systems of control' that we had put in place from September 2020, will still apply to best ensure everyone's safety. This includes enhanced cleaning, our one way systems and year group or class 'bubble' arrangements.
What we do not know yet is the outcome of the recent consultation held by Ofqual into this summer's GCSE and A Level examinations. We now expect to receive this information later this week and we will, of course, contact you with further news once we have had a chance to process any national announcements.
I would like to end by thanking you once again for your continued support throughout the current lockdown period; it has been a very trying time for everyone. Like you, we now look forward to a better time when we can put this dreadful period of our history behind us.
Yours faithfully
Matt Barron
Headteacher