Armistice Day Remembrance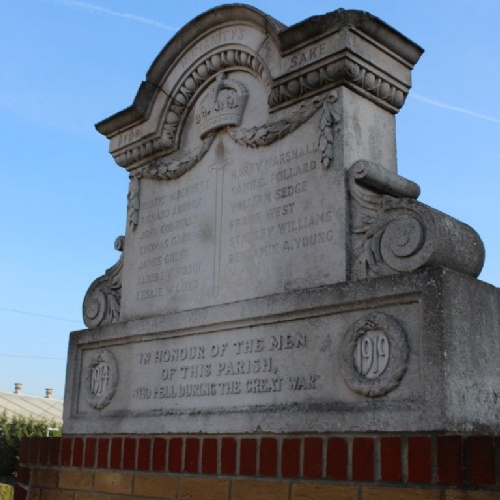 Denton Memorial
St John's has been asked to organise the annual Remembrance Commemoration at the Denton parish Memorial on Lower Range Road. With the programme finally completed and the arrangements and invitations made the event was set to be a success and the commemoration of those who gave their lives during the Greta War of the Parish would be suitable honoured and remembered.
The larger than usual attendance included the Mayor of Gravesham, Councillor Greta Goatley, the Deputy Lord Lieutenant of Kent, Rosemary Dymond, the Head Teacher of St John's Matt Barron, President of the MN Association, Gravesham, Councillor Ernie Brookes, Councillors, veterans, Commander Ian Dunkley and Tony Larkin.
Colm Murphy, head of History at St John's introduced Mr Barron who welcomed everyone present and expressed how great an honour it was to be the organising school of the event. The Mayor spoke after which Commander Dunkley gave the exhortation. 13 red roses were laid – one for each serviceman on the Memorial – by students of the three schools of the parish – St John's, St John's Junior and the Grammar School. Tony Larking gave the Kohima after Brian Hillyer played the Last post, Reverend Graham Herbert lead the prayers.
The Band of the Salvation Army and the choir of St John's led the singing of the National Anthem. The salvation Army played throughout, prior and after the Ceremony and were most able.
A most moving ad fitting ceremony, Our thanks to all the Associations and Individuals and in particular the students of the three schools and the Band of the Salvation Army who attended as well as the official photographer, Mr Keith Nolan – the attendance was in excess of 150.