National Award for St John's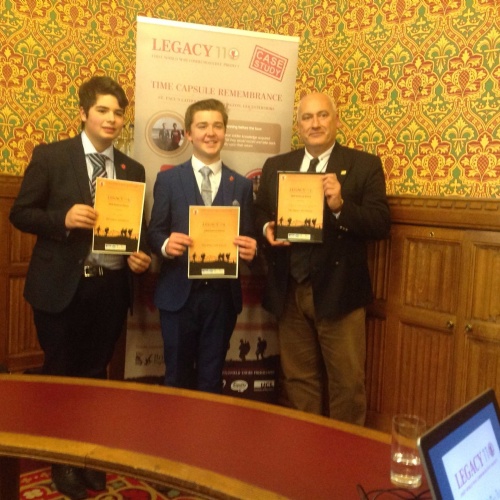 LEGACY 110 is a school based project sponsored by the Institute of Education , University College London, Department of Education and Department of Culture, Media and Sport. The project focuses on the commemoration of World War 1 in schools throughout the kingdom.
Their annual awards were held last Thursday, December 8th at the House of Lords with various MPs, Government Ministers and six schools that were selected nationally from over 1,600 schools to receive a National Awards, National Recognition for their work in commemorating the Great War.
St John's Catholic Comprehensive was chosen to be one of the six to be so recognised. Charlie Church and JP Lopes were the two students chosen to represent the school on the day; they presented a 10 minute power point on the work of the History Society at the school which was received enthusiastically
Picture shows Colm Murphy, teacher, JP Lopes [left] and Charlie Church [right]