Book Launch (December)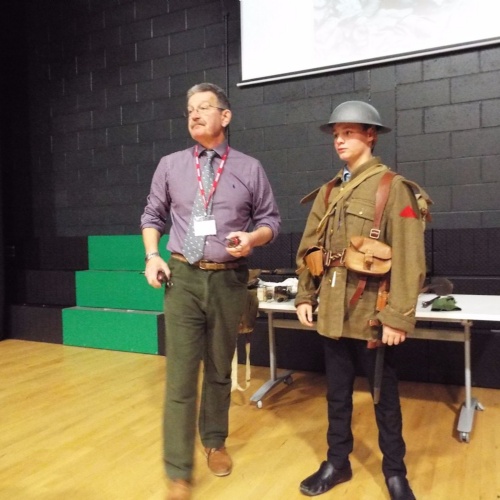 The fourth in the series of books on the Memorials in the Gravesham area was launched at St John's Catholic Comprehensive School by the Mayor, Councillor Greta Goatley and Deputy Lord Lieutenant Rosemary Dymond at the school. The book is the fourth in the series and the first one not featuring the Windmill Hill Memorial.
The three Memorials in Swanscombe are the focus of this book. As with the first three books the book is softback, A4, in full colour, 250 pages and contains over 250 biographies of the servicemen listed on the Memorials at SS Peter and Paul Church and All Saints. The History Society students undertake the task of biography creation under the guidance of a team of staff led by Colm Murphy, Head of History. The book costs £15 and is available from the school.
The launch started with renowned author and historian Mr Andrew Robertshaw giving a talk to the Year 8 students on the soldier in the Great War. The launch itself started with an introduction by Colm Murphy, Head of History and was followed by a brief talk by Andrew Robertshaw on Remembrance.