US Ambassador visits St John's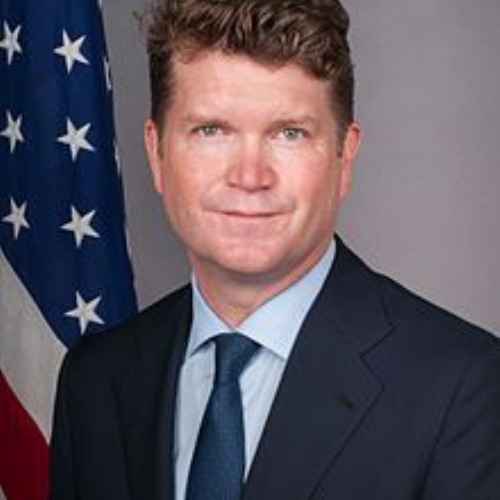 On Wednesday 11th of January, the school was extremely lucky to host the US Ambassador Matthew Barzun at the school for a discussion with our students about the US/UK Relationship.
The sixth form students joined 20,000 other students before them in answering about the perception of the US/UK relationship and foreign and domestic policy of the United States of America. Through the question and answer session, the aim was to understand what the future generations in the UK thought the next big challenge was for the US and the UK working together.
St Johns was also joined by students from across Gravesham including Mayfield Grammar School, Gravesend Grammar School for Boys, the Gravesham Youth Council and students from St Georges.
To open the ceremony Freya Bakker of Year 8 sang "Star Spangled Banner" the US national anthem which led to a fantastic opportunity where Freya was invited along with Mr Barron to attend the US Embassy the next day.
The Ambassador also later joined our students at St Georges Church in Gravesend to commemorate the death of Pocahontas 400 years ago pictures of which you can see below, see also our other news stories for further activities that took place over the week.