Woodville Halls Visit, February 10th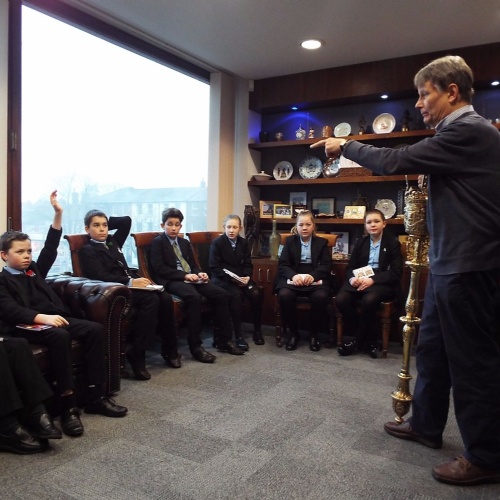 14 Year 7 students visited Woodville Halls at the invitation of the Mayor of Gravesham, Councillor Greta Goatley and Mr Christoph Bull, Sergeant at Arms and Historian.
The visit was a follow up to the recent Battle of Britain Museum visit to Capel-le-Ferne with the focus and emphasis of the visit being the talk on local history by Mr Christoph Bull. The 14 students and two staff, Mrs Perera and Mr Murphy were welcomed and warmly greeted by the Mayor before the 40-minute-long talk by Mr Bull which focused on the Borough Mace and the Borough 'Dart'. The background to both provided the historical synopsis of the Borough. The students were thoroughly entranced by the talk and answered the many questions posed reflecting inter and enthusiasm.
Thereafter, the Mayor entertained the group, providing welcome refreshments.
A thoroughly enjoyable experience which in no small way added to the appreciation and understanding of the Borough and the history of the Borough.
For more photos see our school gallery