Kent County Catholic Schools Rugby Year 7s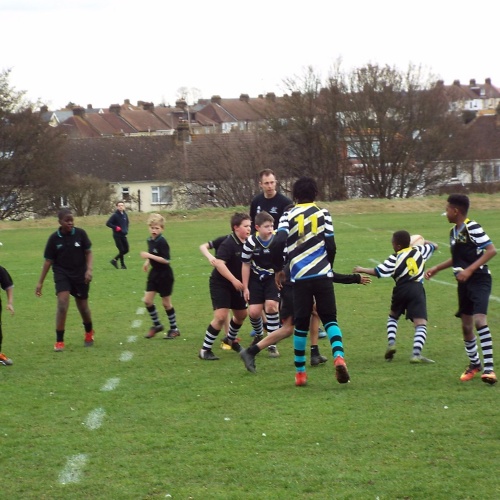 St John's hosted the 3rd Kent Catholic School Rugby 7s Tournament on February 28th. No less than 6 schools took part in the competition – St Edmund's, Dover, Ursuline College, Westgate-on-Sea, St Columba's, Bexley, Simon Stock, Maidstone, Richard Challoner, New Malden and St John's. The six teams were divided into two groups and although St John's won their first game against the Ursuline College, they lost narrowly to St Columba's. In the other group Richard Challenor overcame St Edmund's to progress to the final with St Edmund's playing St John's in the plate final. The hosts lost that game unfortunately.
A keenly contested final followed with Richard Challenor narrowly beating St Columba's.
The matches were refereed by Mr Raye and Mr Rowlinson who performed the task with an element of care and calmness if with authority. The tournament ran to schedule and the players, staff and officials enjoyed a warm drink and food after the tournament when the presentations were made by Mr Barron who spoke eloquently of the prowess of the players, the quality of the rugby and the ability of the coaches to impart their knowledge.
A thank you to Mr Raye, Mr Rowlinson and Mr Murphy for the excellence in management and organistation.
More photos can be seen on our websites gallery of the event.