BOOK LAUNCH, March 7th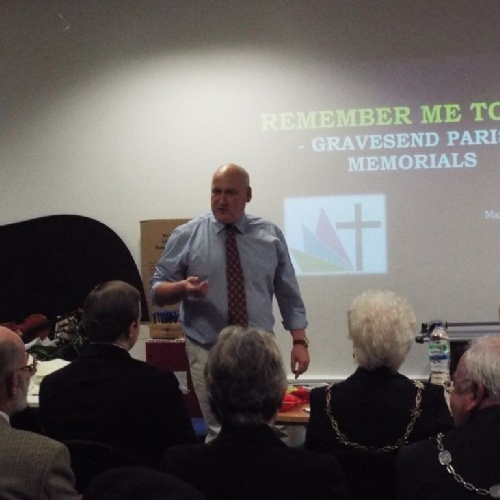 BOOK LAUNCH, March 7th, The 5th book in the series on the Great War Memorials was launched on March 7th at the school. Copies of the book are available at £15 from the school.
The work of the History Society the book focused on the four Great War Memorials in Gravesend Parish – the two in St George's Church, Imperial Paper Mills and the Screen Wall in Gravesend Cemetery. There were a number of distinguished guests present, and after an introduction by History Society members Emily Colfer and Jamie Wheeler, Mr Murphy, Head of History completed the presentation, Guest speakers included Victoria Wallace, Director General, Commonwealth War Graves Commission, Andrew Robertshaw, author, historian and TV personality, David Rich of the Institute of Learning, the Mayor Great Goatley and Dr Bhargawa Vasudaven, the Deputy Lord Lieutenant of Kent.
Dr Bhargawa Vasudaven, in fact, presented a copy of the recently written book on the History of the Lord Lieutenancy of Kent.
Students initially create the work at the school with over 100 researching the names of the servicemen on the Memorials. The information to create the biographies comes from census returns, pension records, local newspaper and others sources with additional help coming from local historians Andrew Marshall, Andy White, Tony Larkin and Christoph Bull. Catherine Murphy does proofreading.
The Gravesend volume is 330 pages, A4, full colour and softback. It gives an excellent snapshot of life a century ago. Copies of the book are available at £15 from the school. More photos from the event can be seen in our school gallery.