Headstone Dedication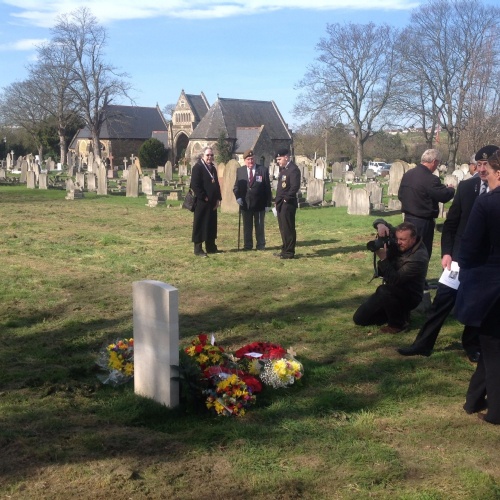 George Field, Royal Field Artillery died on October 22nd, 1918 of TB. For one reason or another, his name was not among the dead of the Great War, and thus there was no CWGC Headstone over his grave. Due to the efforts ad work of Mr Andrew Marshall, George Field's name was finally added to the Great War Casualty list and the records of the CWGC. A headstone was placed over his grave at Northfleet Cemetery and on Saturday, March 25th a special service was conducted at the Cemetery.
The guests included the Deputy Mayor, Mr Haold Crake, Mr Andrew Marshall, Mr Tony Larkin as well as representatives of the Royal British Legion. Some 7 students from St John's were present representing the school. Shane McNeill [Year 7] had the privilege of reading the Kohima during the service and Sinead Donnelly [Year 8] laid the wreath on behalf of the staff and students of St John's School. She was accompanied by Daragh Flaherty [Year 7] and Ethan Noody [year 7] when laying the wreath.
Staff present included Mrs Burns [Chairman of the local RBL Branch and Maths Department] and Mr Murphy [History Department].
More photos can be seen in our gallery.