STAFF CHARITY CYCLE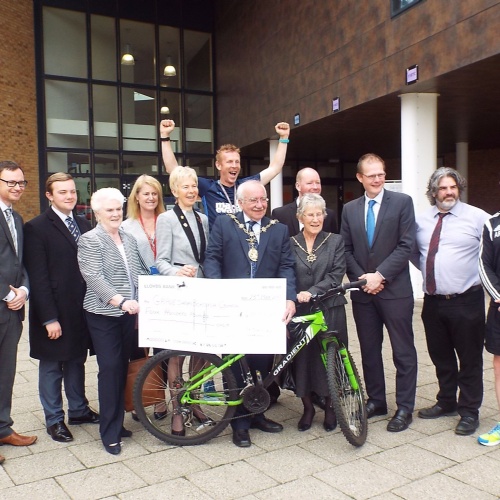 Staff members took part in a charity cycle trip!
14 staff took part in a charity cycle to Normandy – covering the 5 D-Day Landing Beaches – over the Easter weekend. In all some 100 miles were covered by the cyclists and support vehicles – the cyclists included the Headteacher, Mr Barron and the Associate Headteacher, Mr Walton. The cycle was in aid of two charities – the Mayor of Gravesham's Charity and a charity in Normandy.
£400 was raised for the Mayor's Charity and on May 23rd the Mayor, Councillor Harold Craske received the cheque. He attended the whole school Assembly that morning and was joined at the Assembly and the Presentation by the Deputy Lord Lieutenant of Kent, Mrs Dymond and Councillor Goatley (the outgoing Mayor) and Councillor Meade. Councillor Craske spoke of his delight in receiving the cheque which was a great start to his fundraising.