Sporting Success for Maisie Symonds (YR10)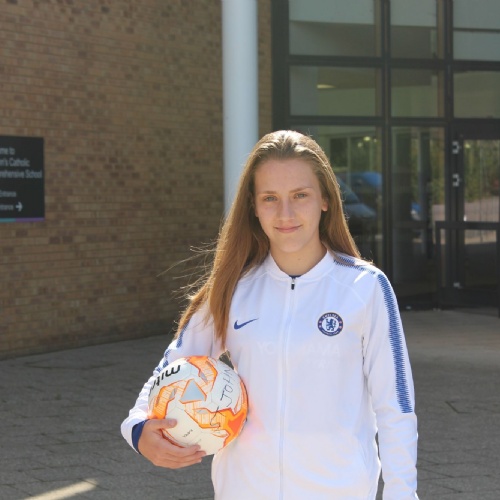 The path to sporting success for Maisie Symonds (Year 10) has been a long one, full of many highs and lows. In recent times, however, all of the hours of dedication and perseverance appear to have paid off. Not only has Maisie been training regularly with Chelsea Football Club's U-15 girls' team (Maisie is pictured above in her Chelsea football kit) but she has also recently been successful in being picked for the England Women's U-15 Team; a truly amazing achievement!
I am sure that you will all agree that this is a fantastic opportunity for Maisie and we know her family are extremely excited that she will be able to represent her country both at home and abroad. It is also fair to say that, as a school, we are also absolutely delighted and proud to hear this wonderful news and share it with you all at St John's.
We would like to wish Maisie all the very best, and we look forward to reporting in the future on how her footballing career develops from here, as she continues to drive her own success on and off pitch.
Congratulations Maisie from all of St John's.