CHARITY CYCLING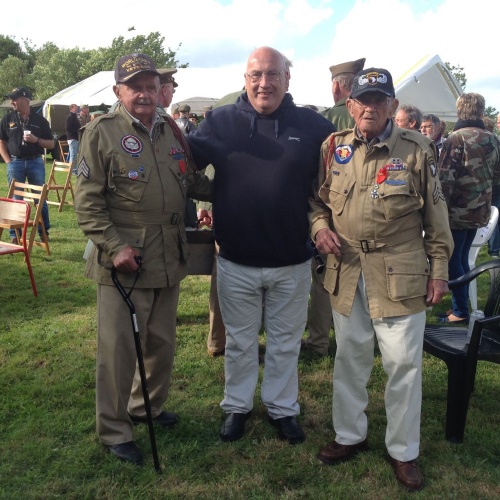 Every year the school organises two charity cycle events – an adult only cycle in Normandy [D-Day 1944 5 Beaches cycle] and a 6th Form/Staff cycle to the Great War Battlefield in Ieper, Belgium.
March 22-25 Normandy with money raised to two charities – The Mayor of Gravesham Charity appeal and to Dave Ashe's Memorial Appeal, Normandy. The cycle involved two cycles of 50 miles on two days – covering the British/Canadian Beaches on day 1 and the American Beaches on day 2. Should any parent be interested kindly contact Mr Murphy – the cots is £210. Accommodation is in the Gold Beach Hotel.
The images shows Mr Murphy meeting two American veterans – both of the 101st Airborne Division; Dan MacBride and Bob Noody [an original member of the Band of Brothers] on a reconnaissance mission for the tour; second image – the cheque handover to the Mayor from the 2016 cycle challenge.
June 16 and 23-25 to Ieper with money raised for the RBL and Help for Heroes. Last year £1,00 was raised for each of these charities. It is planned to do the Gravesend to Dover leg [55 miles] on the 16th and then the Calais to Ieper leg [56 miles] on the 23rd. Cost is £200 to be raised through charity efforts. Again, if interested kindly contact Mr Murphy.