History society visit to Ieper, Belgium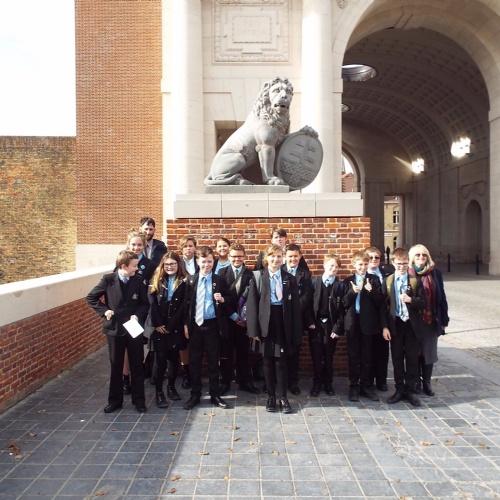 12 students of the History Society with Mrs Murphy, Mr Richards and Mr Murphy travelled to Reutel, near Ieper on October 4th for a commemorative service – to include renaming a bridge – in memory of Captain Clement Roberston, VC who was killed in action that very day one hundred years ago. Among the many dignitaries were Lieutenant General David Leakey, current Gentleman Usher of the Black Rod in the House of Lords [whose uncle Nigel and cousin Joshua were awarded the VC], Chris Stone [chairman of the Royal Tank Regiment] and Ian and Sally Roberston [grand nephew and grand nice of Captain Roberston]. St John's was the only school to be invited to be there, quite an honour.
Clement Robertson VC was an Irish recipient of the Victoria Cross. He was 26 years old, and an acting Captain in The Queen's Royal West Surrey Regiment, British Army, attached to A Battalion, Tank Corps during the Great War when the following deed took place for which he was awarded the VC.
The citation reads - On 4 October 1917 at Zonnebeke, Belgium, Captain Robertson led his tanks in attack under heavy shell, machine-gun and rifle fire over ground which had been ploughed by shell-fire. He and his batman had spent the previous three days and nights going back and forth over the ground, reconnoitering and taping routes, and, knowing the risk of the tanks missing the way, he now led them on foot, guiding them carefully towards their objective, although he must have known that this action would almost certainly cost him his life. He was killed after the objective had been reached, but his skilful leading had already ensured success.
Ian Roberston had the original Victoria Cross awarded to Captain Roberston with him on the day.
The group made good use of the day in the Ieper area visiting the Menin Gate to take photographs [for the Gravesham Book project] and to stock up on chocolate.
A great start to the year for the History Society.