Prayer Week 2017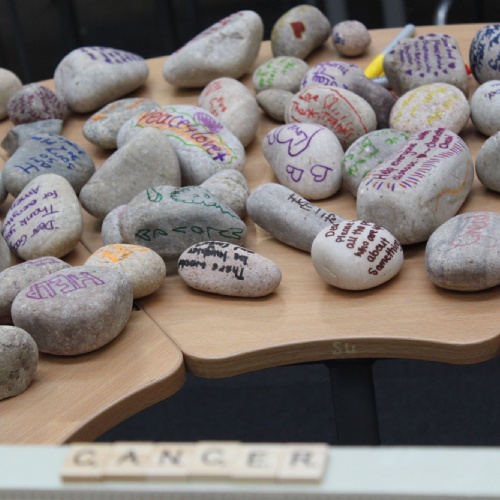 The first week of term two was dedicated to Prayer Week
The first week of term two was dedicated to Prayer Week which is a time to unite Christians in prayer. The week is motivated by the common goal to fulfil God's desire 'that all may be one.' Many people use prayer week to not only pray for the unity of Christians but the unity of all people who are made in God's image.
During the week Key Stage Three students were able to experience a range of activities led by the RE department and the Chaplaincy team. The activities enabled students to dedicate their time to prayer and reflection.
Butterfly prayers were used to allow students to reflect on the things they are thankful for and to consider others in the world that may not have the things they were thankful for.
A meditation session allowed students to consider how meditating on God's word can help to deepen and develop a personal relationship with God and how meditation can be used to help to focus their minds during times of stress or difficulty.
A session on the Stations of the Cross allowed students to think deeply about Jesus' last journey and the suffering he endured for us all. Students were able to understand how this allows Christians to accompany Jesus on his last journey.
The Rosary was used to allow students to understand and experience how the Rosary beads can be used to aid prayer and to pray with Mary to remember the life and sacrifice of her son Jesus.
Students took part in a session that allowed them to reflect on how God sees them. Students were able to think about how other people might describe them and how scripture teaches us that we are all God's children. Students wrote their God given qualities on a person that represented them and considered how their qualities could be used to make a positive impact on the world.
Mini activities were set up and included a remembrance wall that allowed students to add and pray for any loved ones that have been lost. Confessions in the sand gave students the opportunity to write down anything they wished to confess and then brush the confessions away in the sand. Individual prayers were written on pebbles, many students prayed for their individual intentions but also for community and worldwide issues. Scrabble was used to spell out the problems found in the world and students prayed for the problems they identified, which enabled them to think about our global community.
Prayer week ended with a whole school Mass on Friday with Father Joe. This gave the whole school a chance to come together and celebrate, reflect and pray for individual intentions, the whole school community and global issues. The Mass was an opportunity for some students to show their God given gifts and talents by delivering readings and by leading with music and singing.
"I liked prayer week because there were brilliant activities to get involved in." Olivia Church Year 8
"I like prayer week because it was relaxing and it was a great opportunity to talk to God. I liked the meditation it was quite relaxing." Navjot Kaur Year 8
"I enjoyed writing confessions in the sand." Arundeep Mangra Year 8