BOROUGH VISIT TO CAMBRAI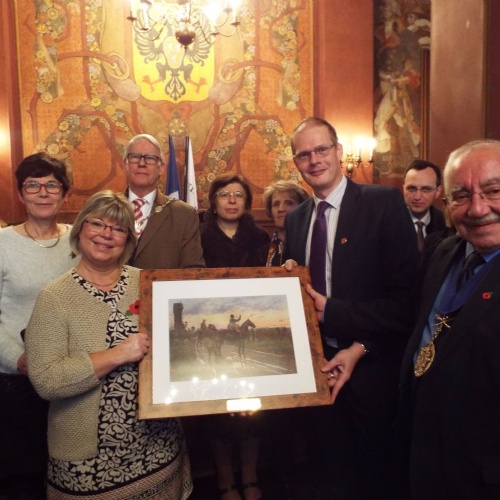 On November 25th the Mayor of Gravesham, Councillor Harold Craske lead a Borough Trip to Cambrai which was organised by the History Society at the school. The group included Mrs Rosemary Dymond, Deputy Lord Lieutenant, Councillor Hurley, Deputy Mayor, Councillors Lambert, Pearton and Pritchard and Mr Barron, Headteacher St John's Catholic School as well as other distinguished guests, parents and students of the History Society.
Cambrai and Gravesham are twinned and this being the centenary of the Battle of Cambrai it was most appropriate to visit Cambrai. The group initially were welcomed by the Mayor of Cambrai at the City Hall in Cambrai; the lavish reception was most welcomed by the visitors. Councillor Craske presented a large bronze replica / model of a Mark IV tank, the tank type used by the British Army in the Battle of Cambrai. Mr Barron, headteacher of St John's Catholic School, presented the Mayor with acopy of the painting The Last Absolution of the Munster by war artist Fortuna Montana. The picture depicts Father Gleeson administering the last rites to the 700 men of the Royal Munster Fusiliers [one of whom would have been Mr Murphy's grand uncle] on the evening of May 8th, 1915; they would go into battle the following morning at Aubers Ridge [which lies just north of Cambrai], with just 200 men surviving the battle.
The highlights of the tour of the Battlefield which was designed to honour the men of Gravesham who lost their lives as a consequence of the Battle included a wreath laying ceremony at the spot where B21 – Bedouin – tanks was disabled with three of the crew killed. This action took place just outside Cambrai, 1 mile south of Fonatine and well into the countryside. After the coach took the group as far as it could go, the visitors then walked a half mile along a track to the exact spot which historian Andrew Marshall had pinpointed and researched. John Boucher, grand nephew of Thomas Boucher who was one of the 3 crewmen of B21 killed when the tank was disabled, laid a wreath on the exact spot – a most poignant moment. Two minutes silence was observed.
From there it was onto the small and quaint cemetery of Orival Wood where a special wooden cross was laid beside the headstone of Walter Redsell who died of wounds on November 25th, 1917. The final stop was at the Memorial to the Missing of the Battle of Cambrai at Louverval where no less than twelve Gravesham men are commemorated – to include Thomas Boucher of B21 tank. The group were entertained with talks, background information and stories from Andrew Marshall, historian who lives locally and Colm Murphy, head of History, St John's Catholic School.
Check the full range of images on the Gallery/Battle of Cambrai visit.