National Recognition for School History Society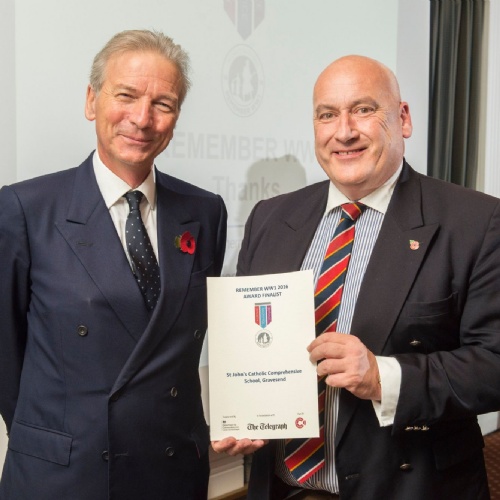 National Recognition for the School History Society, November 2nd
The Institute of Education [Department of Education] nominated the School History Society in the education category for the National Remember WW1 Awards, promoted by the Department of Local Government and the Communities. The History Society was duly selected as a finalist – one of four and remember this is a National Award.
Interviews for the finalists was held on October 12th and Mr Murphy, head of History, and Joel Williams-Modeste, Year 11 attended and represented the History Society, the 40 minute interview was most intense, far reaching and very wide with the focus on legacy. The Awards Ceremony was held on November 2nd at the Army and Navy Club, Pall Mall, London. Unfortunately, the History Society did not win the overall award but nonetheless attaining the distinction of being a finalist, among the top four in a National Award, is quite something else and a particular distinction for the school.
The History Society looks forward to the next national Awards – those promoted by the Institute of Education – and focuses on work relating to the Great War. These awards will be held at 10 Downing Street later this month. These awards are again Nationwide and are awarded to work done in schools through the country.