Sixth Form Hub
**UCAS 2021 REGISTRATION IS NOW OPEN! PLEASE REGISTER **
Please check this page for updates on UCAS, activities to complete, or general information.
New pages have been added to the right-hand menu!
---
FREE HELP WITH UCAS PERSONAL STATEMENTS!
The Oxbridge Masterclass is offering us free access to their online personal statement writing course, which is designed to support anyone making a UCAS application. The course covers the following:
Tutorials and templates to take you from blank page to final draft
Walkthrough videos and model personal statements
Wider reading recommendations based on your subject to kickstart your summer preparation
To sign-up, please complete this form on their website.
---
Virtual Work Experience Opportunity!
Please click here to view the flyer for the Work Experience opportunity.
---
Lesson Timetable
Dear Students and Parents
We are delighted to be able to publish the Year 12 lesson timetable for next week, w/b 29th June. The timetable details all lessons we are providing for Year 12 students both in school and online and will be updated weekly. We have checked to make sure there are no clashes and we have been able to offer a wide variety of lessons which we encourage students to take advantage of in order to prepare for Year 13. Please see the link below:
Secondly we are delighted to introduce UNIFROG to our Year 12 students and parents which will be invaluable in helping our students prepare for their post 18 pathway.
Students have been sent their login details and should log in as soon as possible. They will be given tasks to complete each week in order to help them which they should complete within the time given. Parents will be sent their log in soon so they can help their child use UNIFROG to help choose Universities etc.
Please see below for more information: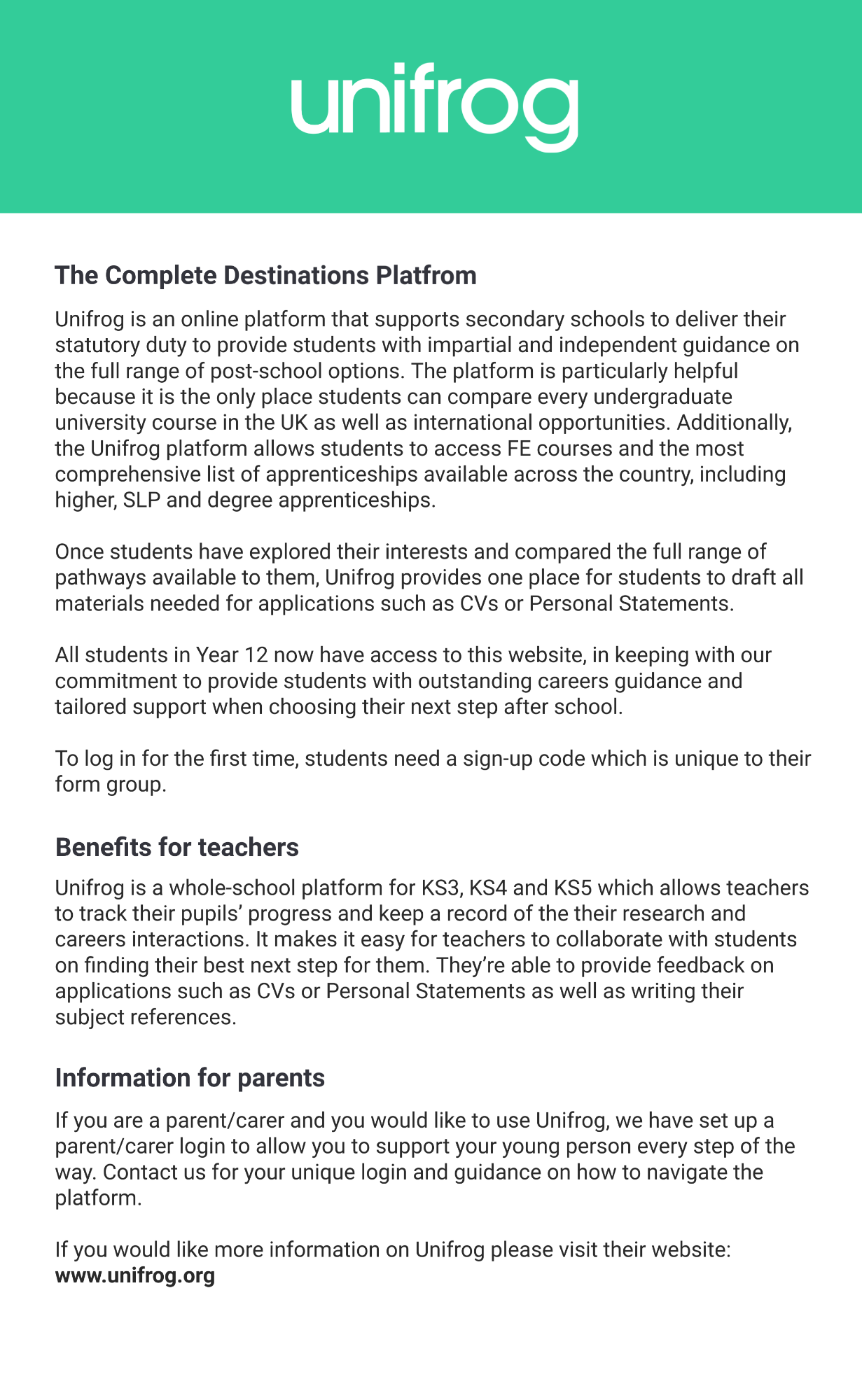 Free Downloadable Textbooks
Springer textbooks are offering free downloadable University textbooks in a variety of different subjects:
NEW - Medical virtual work experience is available at https://bsmsoutreach.thinkific.com/courses/VWE
Please also check the PDF attached below for the full list.
---
CAMHS Resources
If you have having any difficulties with your mental health, during this stressful time, you can find resources at the link below to help support your wellbeing.
https://www.camhs-resources.co.uk/
---
Student Finance
For up-to-date information on Student Finance, please see the powerpoint attached below.
---
Wider Reading
In response to the current situation which will cause so many issues with work experience and summer schools, Causeway have launched a page on their website dedicated to wider reading.